National Volunteers Week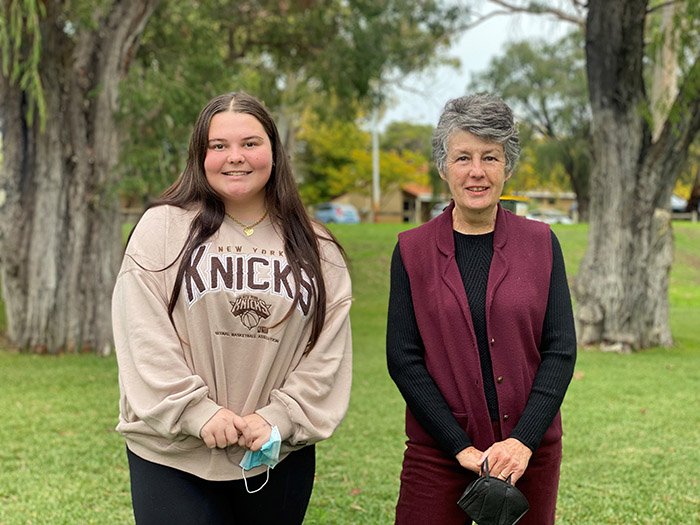 Graylands Hospital volunteers Karly and Anne
Despite all the differences that come with a multi-generational age gap, the commonality between Karly and Anne is their passion for helping people.
Anne Wills has been a volunteer at Graylands Hospital for more than ten years. Karly has just completed a Bachelor Degree in Psychology and in her gap year before she returns to further her studies, she's filling her time helping Anne in the myriad ways that she contributes as a volunteer (and single-handedly raising the bar for our young adult children!).
On any given day, the volunteers at Graylands might be working in the second-hand apparel store hanging and ironing clothes, serving drinks from the kiosk, giving out birthday presents to patients, providing welcome and discharge packs and even collecting bottles and cans to support the hospital's Containers for Change program. This work has been more crucial than ever during COVID when volunteer numbers have been significantly reduced due to access to the hospital.
Michelle Masarei, the GH Volunteers Coordinator, says:
"If I didn't have Anne during COVID, I don't know what I would have done. The patients here would have missed out on so many special things."
But in addition to all the hands-on daily activities, our volunteers are also behind fundraising efforts for all sorts of projects that improve the experience of patients at GH. From funding flower beds in the gardens so that patients can enjoy the therapy of nature, to murals on the wards to get patients creatively engaged and at once brighten the ward environments, our volunteers are a backbone of goodness.
While many people would consider unpaid-work a sacrifice, Anne says:
"You get so much more out of it than you give; it extends your experience of how others live when they are not so lucky as you."
Karly has volunteered for Lifeline and Headspace and but says that her time at Graylands Hospital has been the most rewarding because "I love meeting different people; everyone is so unique and it's been great becoming familiar with them and being able to give back."