Compliments, complaints and suggestions
Each North Metropolitan Health Service (NMHS) hospital site/service has mechanisms in place for all health service users to provide our Consumer Liaison Service with feedback about their service experience.
Your feedback tells us what we are doing well and where we could improve. We welcome all feedback including compliments, concerns, suggestions or complaints. Making a complaint will not impact on any care or treatment provided. The information is filed separately from the medical records and is kept confidential.
For Sir Charles Gairdner Hospital (SCGH) and Osborne Park Hospital (OPH)
How to provide feedback
For King Edward Memorial Hospital (KEMH) and Osborne Park Women's Health Service
How to provide feedback
For MHPHDS Mental Health and Public Health Services
How to provide feedback
For MHPHDS Dental services
How to provide feedback
Raising concerns – making a CARE Call / Aishwarya's CARE Call
Raising concerns – making a CARE Call / Aishwarya's CARE Call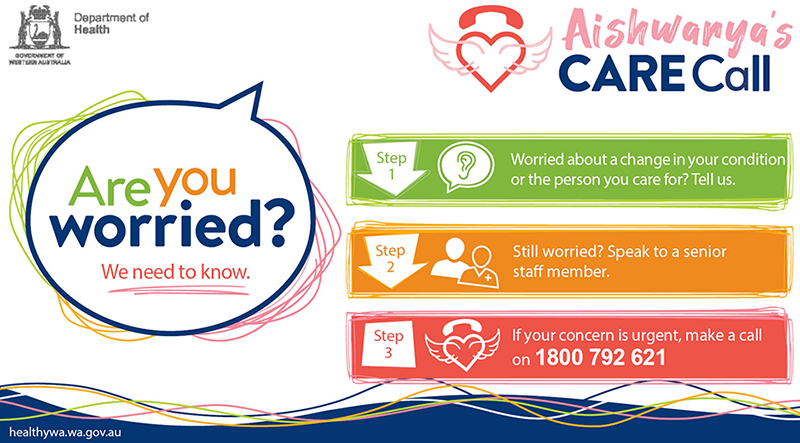 Call and Respond Early (CARE) gives you a pathway to call for assistance when you are concerned about your health or that of someone you care for.
Patient safety and wellbeing is an essential part of what we do. At NMHS we provide a clear pathway for when a patient or family member are really concerned about the health of someone they care for.
Take these steps
Use the call bell or go to the nurses' station and talk to your nurse, midwife or doctor regarding your concerns.
If you're still concerned, ask to speak to the nurse or midwife in charge of the shift.
If you think it's urgent or remain concerned and feel that you have not had an appropriate response, call 1800 792 621. You will need to provide the following information:

Name of patient
Reason for the call
Ward and room
When shouldn't I make a CARE Call?
If you have a complaint or feedback about something other than the urgent clinical concerns about a patient, please speak to your nurse or visit our Compliments and complaints.
CARE Call in other languages
Simplified Chinese - CARE Call (PDF)
Traditional Chinese - CARE Call (PDF)