New Breast Screening and Assessment Centre in Joondalup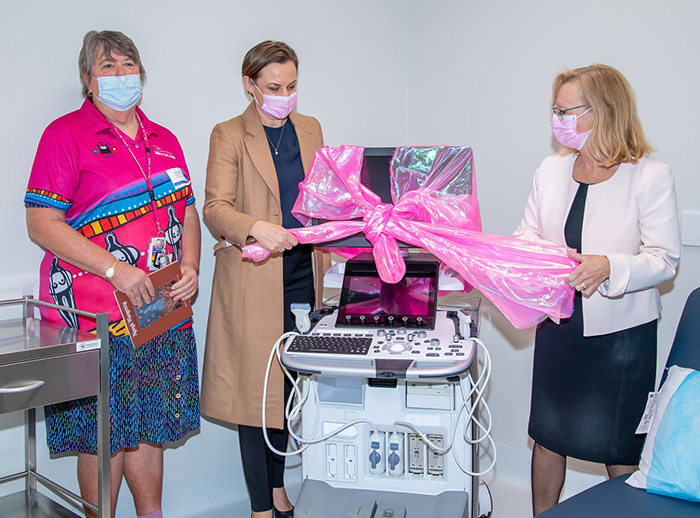 Minister for Health, the Hon Amber-Jade Sanderson, NMHS CE, Dr Shirley Bowen and Medical Director Radiology Dr Liz Wyllie launching new Breast Screen WA clinic
The Minister for Health, the Hon Amber-Jade Sanderson launched the BreastScreen WA (BSWA) clinic, saying that it will provide 11,000 screening episodes per annum for women in the Northern corridor.
"Women in Australia have a 1 in 7 risk of developing breast cancer in their lifetime. I hope many women will take advantage of BSWA's online booking facility to secure an appointment at this outstanding venue in Joondalup." - Hon Amber-Jade Sanderson.
Joined by new NMHS CE, Dr Shirley Bowen, WNHS ED Dr Jodi Graham and Medical Director Radiology Dr Liz Wylie, Minister Sanderson participated in Noongar Elder Auntie Marie Taylor's smoking ceremony to cleanse and ward off bad spirits.
The new assessment clinic also allows the service to incrementally increase capacity for the diagnostics of screen-detected abnormalities, such as cancer. The clinic will enable the service to meet current and projected demand growth in the Northern Corridor and helps women in the northern metropolitan area to access the important service, but much closer to home.
Health authorities across Australia have been particularly concerned that the disruption of screening services, due to COVID, could lead to a significant increase in the diagnosis of more advanced cancers. BSWA's agility and teamwork has meant they have overcome the COVID screening backlog that occurred at the beginning of the pandemic, and actually broke testing records in 2020/21 by screening over 125,000 women.
As part of the Labor budget in 2020, and in line with the Future Development for Mammography Screening 2031 Report assessment of demand in this area, BSWA was granted funding to establish a co-located Breast Screening and Assessment Centre at 57 Joondalup Drive, Joondalup.
Breast cancer facts in WA:
BreastScreen WA provides FREE screening mammograms to Western Australian women 40 years or over with no breast symptoms, every two years.
The risk of breast cancer increases with age: over 75 per cent of breast cancers occur in women over 50 years of age.
A mammogram can detect 70-90 per cent of breast cancers and is the only proven means of detecting it at this early stage
Breast cancer cannot be prevented, but the earlier a breast cancer is detected the better the chance of successful treatment.
More information at BreastScreen WA's website (external site) and Breastscreen WA Facebook (external site)
Bookings can be made Online (external site) or Tel. 13 20 50.