Waiting for a donation – a perspective from the other side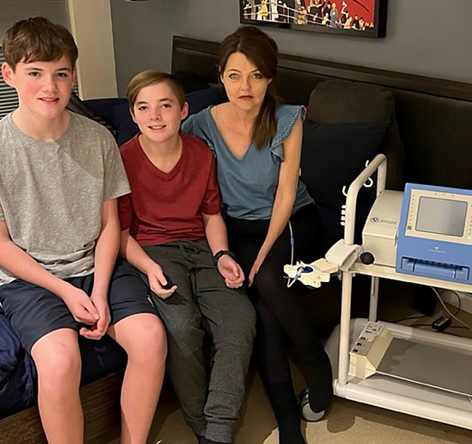 Nicole and her family
As DonateLife Week 2022 comes to an end we want to introduce you to Nicole, an inspiring patient waiting for not one, but two organ donations.
Nicole has spent almost her whole life living with Type 1 Diabetes, a rollercoaster ride that she knew would one day probably end in her needing a kidney transplant.
In a whirlwind of events in 2021 that day came much earlier than she and her family had hoped.
"We knew that the trajectory indicated that eventually I would need an organ transplant," she said.
"But an infection in my blood and the need for me to have a long period of strong antibiotics certainly sped that process up.
"I try to look at it as a little lotto win for myself, because right now I'm young enough that they will do both a kidney and a pancreas transplant at the same time.
"Imagine a life without diabetes."
After receiving the news that her kidney had "packed it in," Nicole and her family went through the arduous but necessary process of education and testing here at SCGH.
"My whole family went through the education process at Charlies," she said.
"The teams there are incredible, and they really helped me prepare and understand what was happening.
"I was so lucky that Dr Boudville was there the afternoon I came into Emergency when my kidney stopped working."
Nicole and her husband Adam decided early on that it was important they were completely transparent with their 13-year old boys.
"They understand what's happening and they were able to access psychologists and ask questions that perhaps they didn't want to ask me," she said.
Twelve months after receiving the news she would need a double transplant and eight months after starting daily eight-hour dialysis, Nicole waits patiently for that life-changing phone call.
"People always ask me 'how long is the wait."
"There's no way of knowing really, but I believe once you hit the top 10 on the list the decision as to who gets what organs is made based on compatibility as opposed to simply just your number on the list.
"I really don't like the thought of me sitting here waiting for someone to die, but I try to focus on the fact that if it were me and if I was faced with the decision to donate my family's organs, I would absolutely do so.
"I truly believe it's the best thing anyone can ever give to a person – it's the gift of life."
As each day passes Nicole continues to work, albeit with her phone rarely on silent, and her positive and outgoing nature endears her to all those around her.
"My family are wonderful; I don't know how to even tell you. Adam is my rock and my family just give me so much support.
"My company and my workmates, just everyone around me has been so supportive.
"I know a lot of people in my situation would just stop working but I just love my work and they've been absolutely amazing letting me work four days a week and be home whenever I need and I just cannot thank everyone enough."
Nicole's message to the universe is simple: "We're ready."